DENNY SMITH EPK
"

It's to Smith's eternal credit that he's able to craft songs that sound like you've known them forever....material that's so good, it has to be asked: how is Smith still working on the fringes of cult fandom at this point? He deserves to be far more widely known."
— Real Gone (U.K.)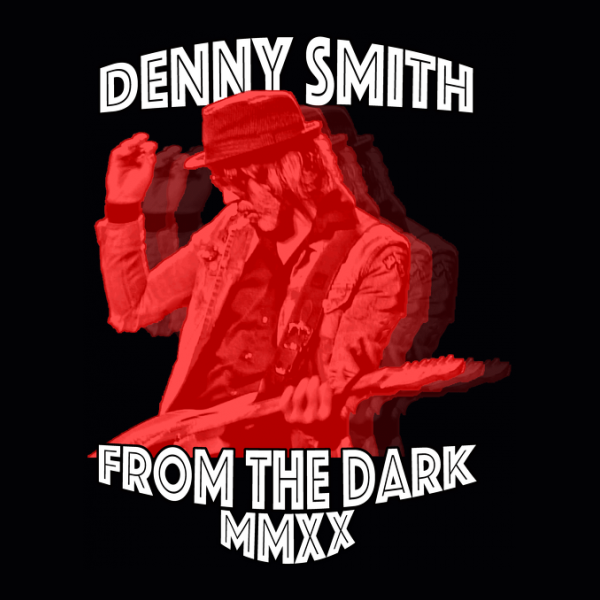 I was born in Salinas, California, but raised in Central Illinois, the oldest of four children. As such, I lacked the guidance of a senior, hipper sibling, and became a student of Casey Kasem's Top 40, immersing myself in the Pop hits of the 80s, more or less unaware of anything else that may have existed beyond the confines of that weekly countdown. Soon enough though, MTV did it's part to broaden those horizons, and a failed relationship with the Columbia House Record Club's 12-Albums-For-A-Penny offer got me my real start in both delinquency and musical education, as I never did pay for my requisite number of additional purchases, but I did(and still do)enjoy the hell out of the ones I essentially purloined before their legal department realized I was an 11 yr. old, impervious to threats of litigation.
That burgeoning record collection led to an itch to play the guitar, an itch likely inflamed by the knowledge that guys with guitars got the girls who liked guys with guitars, or at least that's what KISS taught me, and I never, not even for a second doubted the gospel of Paul, Gene, Ace, & Peter.
Eventually, I joined a handful of "bands" with unfortunate monikers like The Chow Boys, The Dead Pedestrians, and FOXX, but somewhere along the way I started writing songs, people began to remember them, and they even sang along. I took this to mean that while I was clearly not gifted at naming bands, I WAS doing SOMETHING right. Granted, my first compositions were mostly big dumb anthems and melodramatic strummers aping the by-then requisite power ballads of the era, but I liked Bon Jovi and Def Leppard, so the more anthemic the better, and as far as I was concerned a little extra cheese never hurt anyone that didn't deserve it.
It wasn't until I got a job working part-time in a record shop that it hit me just how much great music had been flying under my radar. I got turned on to Elvis Costello, rediscovered The Beatles, and fell in love with Jellyfish & Big Star, an affair that has broken my heart time & again, in the best possible way. Further schooling in the art of song-craft came by way of a stint with the Power Pop act Loveshine, and the purchase of my first multi-track recorder, which enabled me to be the anti-social hermit I'd never dreamed of being, locked away in my cinder block and 70's faux wood-paneled basement, layering guitars and vocal harmonies over my own low-rent attempts at merging Oasis with The Afghan Whigs.
Now I can't remember exactly how any of that output ended up making its way to California, but before too long I found myself in a recording studio, the legendary A&M Studios in the heart of Hollywood in fact, playing guitar on a handful of songs for the band Best Of Seven. By the time we were done recording, I was a member, and for the next couple of years, we were trotted out by our management to showcase for every major label still standing, even generating a little heat within the industry that ultimately resulted in nothing more than me amassing a ton of frequent flyer miles, and enough recorded material to release 4 or 5 records, had one of those labels seen fit to actually sign us.
So, like all things, that band ultimately came to an end, and I landed on my feet in Nashville, TN, with a new outfit, played all over the Southeast and Midwest, recorded a bunch of songs, and managed to get some important people interested all over again before it imploded. This is where I found myself face to face with the microphone at center stage.
Tired of searching for someone to sing my songs, I just opted to do it myself, and for the last 10+ years, I have been cranking out records with my band The Great Affairs, and traveling the country in a van to play them live for anyone who will listen.
This year though, I'm taking a little time away from the band to promote my second solo LP 'From The Dark', that I co-produced with Grammy-winning Mixer/Engineer Michael Saint-Leon. It's a fairly marked departure from the Rock N' Roll stylings of my day gig, hanging its hat on the Singer/Songwriter side of the street for the better part of its 39-minute running time.
The last time I did one of these solo records(2016's 'An Overnight Low'), it was necessitated by me having amassed a glut of material that I was quite proud of, but that my band couldn't really put to good use. That last time was also my FIRST time doing something like this on my own, or at least something I intended to actually release commercially. As anxious as I was about financing said effort, and assembling the players to help me make it worth sticking my neck out for those songs, I've never once regretted it.
While it could have amounted to little more than an exercise in fiscal irresponsibility, it was remarkably liberating, restored a bit of the faith I think I'd lost in myself as a writer and artist, and actually managed to turn a profit, in spite of the fact that I did very little in the way of proper promotion for it.
Now, a few short years later, I get a similar itch and make quick work of gathering a crew to realize the vision for what would ultimately become 'From The Dark': 10 songs about untimely passings. unexpected diagnoses, unrelenting addictions, and the unfortunate reality that such is life sometimes, when a younger man's days are behind you.
I wanted to strip away some of the artifice that can go along with doing the straight-up Rock ensemble thing, and maybe see if I could cut a little closer to the core, and tell stories that seemed less like they'd been viewed from a distance or through some lens, lived vicariously. In fact, I didn't really want to "tell stories" at all, what I wanted to do was get some things off my chest as truthfully and un-self-consciously as possible.
-Denny Smith
October 2019
For more information, contact us: